Strax

Posts : 27137
Age : 21
Location : -


on Sun Oct 25 2009, 08:29
Jedan od najboljih igrača 60-ih godina...

Igrao je za Lakerse, a u sezoni 1961/1962 imao je prosek od 38 poena i 18 skokova!
Takođe imao je još sezona gde je u proseku ostvarivao lagano preko 30 poena i preko 10 skokova...

i mislim da Elgin zaslužuje mnogo veću pažnju...
jer smatram da je jedan od najboljih niskih krila koji su igrali u NBA.
I jedan je od najboljih igrača bez prstena!
Vuk91

Posts : 2082
Age : 26
Location : South Central LA


on Wed Mar 20 2013, 19:24
Ovaj čovjek je bio Michael Jordan prije Michael Jordana. Znači u to vrijeme nitko nije bio ni blizu fizički jak i brz kao on, Baylor je ostavljao protivnike iza sebe i uglavnom bi koševe završavao u zraku. Dovoljno govori da je bio među boljim skakačima , pri tome treba napomenuti da je bio visok oko 195. Imao je nevjerojatan skok i to je puno koristio.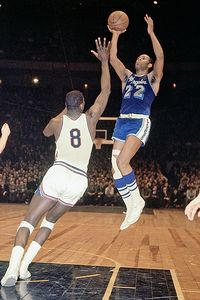 Dominatan skoro kao i Wilt na svojoj poziciji.
Permissions in this forum:
You
cannot
reply to topics in this forum